Incisioni
NEWS!
E' appena uscito il CD "Bravade! ovvero delle Metamorfosi"
per l'Etichetta STRADIVARIUS nell'ambito del Progetto SIAE Classici di Oggi
con brani originali e "variazioni-invenzioni"  di Alessandra Bellino su opere di  Jacob van Eyck dedicate a Tommaso Rossi e all'Ensemble Dissonanzen, e composizioni di Jacob van Eyck eseguite al recorder da Tommaso Rossi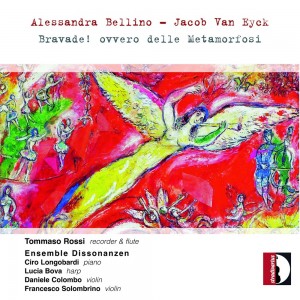 Tommaso Rossi, flauto e al Recorder
Ensemble DISSONANZEN:
Ciro Longobardi, piano
Lucia Bova, harp
Daniele Colombo, violin
Francesco Solombrino, violin
ETICHETTA STRADIVARIUS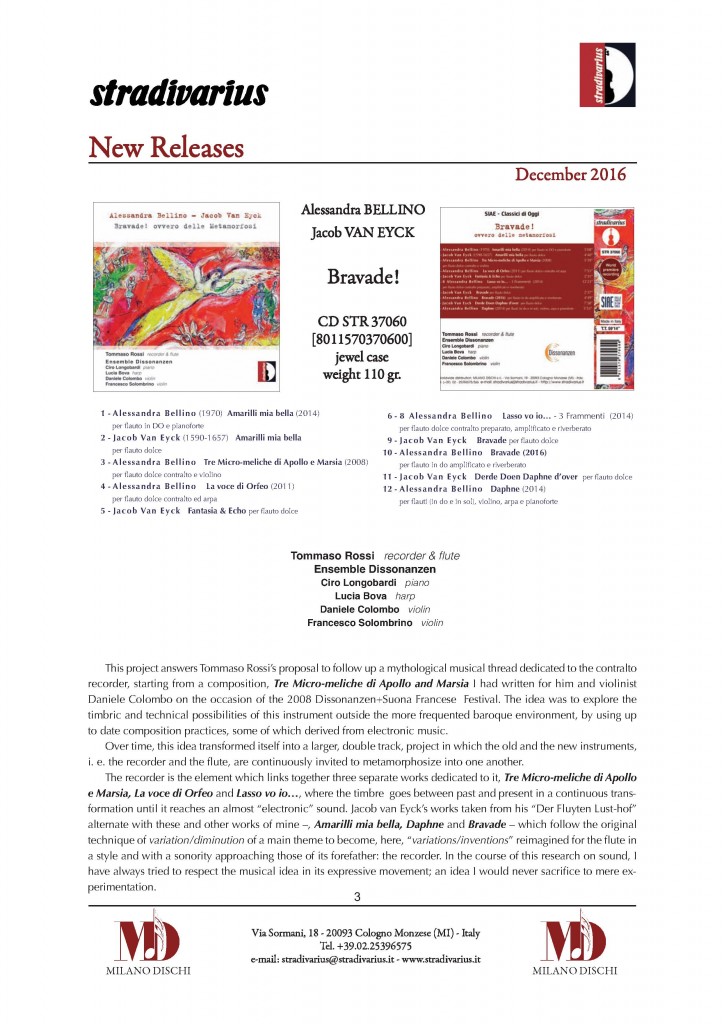 CIDIM – Rai Radio3 Suite
RAI Radio 3 Suite 10 gennaio 2017
RECENSIONI
Rivista Blow Up di marzo 2017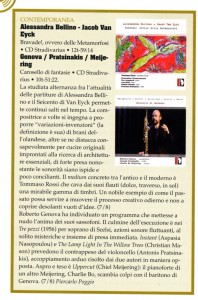 _______________________________________________________________________________________________________
NEWS!
E' uscito  il CD monografico  Gran Salto  di Alessandra Bellino
per la EMA Vinci Records  – Progetto SIAE Classici di Oggi
Opere strumentali interpretate da: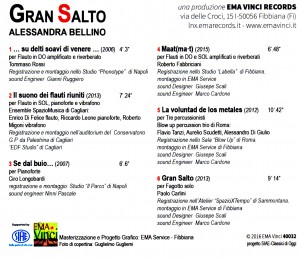 Ensemble SpazioMusica di Cagliari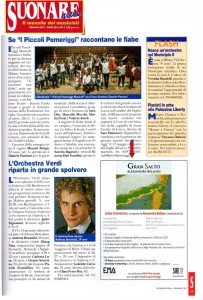 Gran Salto EMA VINCI acquista
CIDIM
EMA VINCI RECORD ufficio stampa
___________________________________________________________________________
 Alessandra Bellino  "Percezioni del sommerso" for 2 flute in DO, piano and guitar
in CD: Fra nord e sud – Le   musiche delle donne nel duemila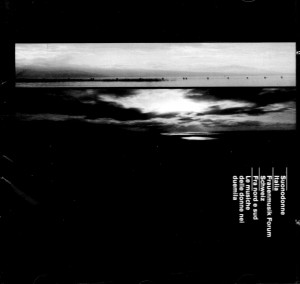 Project Suonodonne Italia Milano (Esther Fluckiger President) and Rugginenti Editore Milano Italia
Recorded 28.10.2000   Radiotelevisione svizzera   Rete Due Lugano
Executive producer: Massimo Monti   Musicisti Associati Produzioni M.A.P. – Lira Classica   Milano
http://www.rugginenti.it/suonodonne/index.html
---


Alessandra Bellino "Mixterium" for brasses quintet
in CD: Roman Holiday- Borealis Brass Alaska (2006)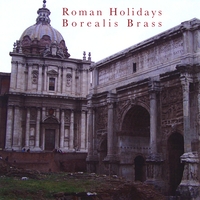 Copyright 2009 Borealis Brass
Edition: CD Baby – Portland (USA)
http://www.cdbaby.com/cd/borealisbrass
---
Alessandra Bellino: "Silenzio!Chi ride?" per piccola orchestra e voce di soprano cantante e recitante su testi di S. Quasimodo e B. Brecht
2° Premio CONCORSO INTERNAZIONALE DI COMPOSIZIONE "ITALIA 150″ – LAMS MATERA 2011
nel CD: LIVE RECORDING "FINALE CONCORSO INTERNAZIONALE DI COMPOSIZIONE ITALIA 150″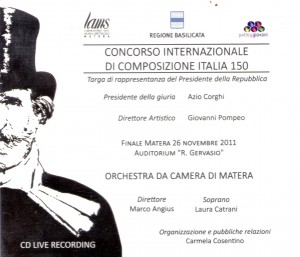 Recorded : Concerto della Finale del Concorso, Matera 26 novembre 2011 – AUDITORIUM "R. GERVASIO"
CD  realizzato da LAMS MATERA (ITALY)
http://www.lamsmatera.it/concorsi/composizione-150
Orchestra da Camera di Matera
Direttore Marco Angius,
Soprano Laura Catrani
---
Alessandra Bellino "S'aprì acqua di roccia" pour six voix féminines solistes et piano
nel CD "Frasi nella luce nascente"  2014. Production : EMA Records par EMA Vinci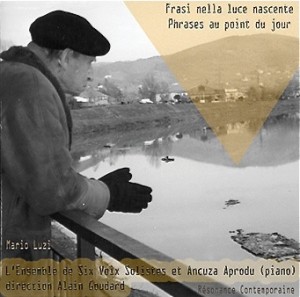 Enregistrement et mixage : Giuseppe Scali. Enregistré à la Chapelle du Centre Hospitalier Saint-Jean-de-Dieu, Lyon (F).
in collaborazione con Rèsonance Contemporaine
Interpreti:  Six Voix Solistes et  Ancuza Aprodu piano
direction Alain Goudard
http://www.emarecords.it/emarecords/Musica_Contemporanea.html
CD disponibile presso:
iTunes
qobuz